Table of Contents
EO.Pdf

EO.Web

EO.WebBrowser

EO.Wpf

Common Topics

Reference

.NET API Reference

EO.Base

EO.Base.UI

EO.Extensions

EO.Pdf

EO.Pdf.Acm

EO.Pdf.Contents

EO.Pdf.Drawing

EO.Pdf.Mvc

EO.Web

EO.WebBrowser

EO.WebBrowser.DOM

EO.WebEngine

EO.WinForm

EO.Wpf

EO.Wpf.Gauge

Classes

CircularGaugeFrame Class

CircularLabelOptions Class

CircularLineOptions Class

CircularOptions Class

CircularScale Class

CircularTickOptions Class

LinearGaugeFrame Class

LinearLabelOptions Class

LinearOptions Class

LinearRangeBarOptions Class

LinearScale Class

LinearScaleBase Class

LinearTickBar Class

LinearTickOptions Class

MajorCircularLabelOptions Class

MajorCircularTickOptions Class

MajorLinearLabelOptions Class

MajorLinearTickOptions Class

Marker Class

MarkerCollection Class

MinorCircularLabelOptions Class

MinorCircularTickOptions Class

MinorLinearLabelOptions Class

MinorLinearTickOptions Class

Needle Class

Options Class

ProgressIndicator Class

Range Class

RangeBarOptionsBase Class

RangeCollection Class

RollingRangeBarOptions Class

RollingScale Class

RollingTickBar Class

ScaleBase Class

TickBarBase Class

ValueIndicator Class

Enumerations

EO.Wpf.Gauge.Shapes

EO.Wpf.Primitives

EO.Wpf.Themes.Aero

EO.Wpf.Themes.Classic

EO.Wpf.Themes.Luna

EO.Wpf.Themes.Metro

EO.Wpf.Themes.Royale

JavaScript API Reference
Represents a rolling scale, where only a portion of an entire linear scale is visible.
Namespace: EO.Wpf.Gauge
Assembly: EO.Wpf (in EO.Wpf.dll)

Inheritance Hierarchy

Syntax

Remarks
You can imagine a RollingScale as a very long LinearScale, but only with a small portion of the scale being visible. The following diagram demonstrates this concept: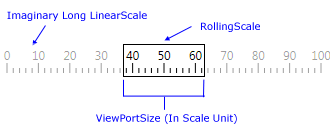 See here for more details about how to use this control.

See Also